February 20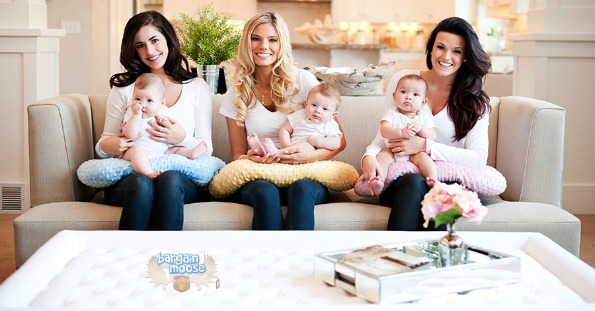 Nursing Pillow is offering an exclusive Bargainmoose coupon for a free nursing pillow if you just pay the shipping. The shipping is approximately $18, but the coupon code is worth $40, so you definitely get your money's worth. Prices are in U.S. funds.
Click here to get your free nursing pillow @ Nursing Pillow
Coupon Code: PILLOWMOOSE1
Discount: Free nursing pillow
Expiry: Unknown
Nursing Pillow was created by a mother of five, who was also responsible for the creation of Udder Covers™, Seven™ brand baby slings, Carseat Canopy™, and Milk Bands. Her goal in the creation of these products was to make mother's lives easier while nursing and caring for their small children.
Being a serious lactivist (breastfeeding activist) myself, I love it when I find products that will help to ensure the success of nursing mothers. I used my nursing pillow with each of my children and found it especially helpful for hands-free nursing. Nursing for hours on end can be incredibly boring, no matter how bonding and wonderful it is, sitting for hours is tedious. I could only watch so much TV before I wanted to pull my hair out. Reading helped, as I am an avid reader, so latching my baby and letting them drift to sleep while laying on the pillow while I read was so much better. This also helps when you have older children who want your attention for those many hours of nursing. You can read to them and do other things with your hands while your baby is safe and secure on the pillow, eating away.
I am also self-employed as a Writer and Editor so maternity leave never happened for me. I worked literally the day after I got home with all three of my kids. The nursing pillow saved me as I could still type and use my computer while they ate or slept. New babies aren't really fans of sleeping on their own. They love the warmth and security of  being close to you, so this allowed my babies to sleep longer, while I still got my work done.
I think that nursing pillows are an absolute must for new mothers who aren't familiar with latching, as it puts baby at the right height and you in an ergonomic position best for breastfeeding success. Nursing pillows are also great for giving your arms and back a rest from holding baby, especially while nursing for long periods.
The Nursing Pillow site has many great nursing pillows, in wonderful colours and designs and they are machine washable.
I am all for neutral pillows, because you never know what you'll have or have next. I like the Kaleidoscope Grey, a cotton pillow with polyester filling.
The Minky pillow is a step up from the regular pillow and I think they look cuter too. Pay only $5 for this pillow with our exclusive coupon code, plus shipping.
The coupon code is even valid for the gift sets, which are a wonderful baby shower gift. The set includes the Minky nursing pillow, a Milk Bands nursing bracelet, which helps you keep track of which side you last nursed on, plus two pairs of 5-ply 100% cotton breast pads (you will definitely need these!). Pay just $10 (a value of $64.95), plus shipping for this item.
Check out the other great Nursing Pillow coupon codes in the Bargainmoose forum.