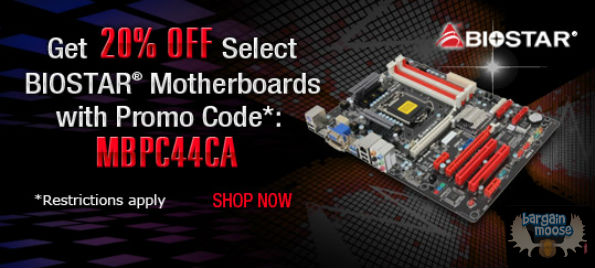 Building a sweet new system? NewEgg and Bargainmoose have two hookups to get your new motherboard for 20% off!
Click here to get your new Biostar Motherboard @ NewEgg.ca
Coupon Code: MBPC44CA
Discount: Save 20% on select Biostar Motherboards
Expiry: Unknown
There are fifteen motherboards on sale here. These are a few, from the low end to the top of the line and somewhere in between.
Some of these are actually already on sale for up to 34% before the 20% off coupon, so you're getting a really great deal. One of these even has a $10 rebate available. Shipping on most of these is not free but is cheap, ranging between $7 to $13.
It has been over a decade since I have built a new system. I've just been doing laptops for years, and I've had no need to go out and build a system. I have frankenstein-ed together systems from old parts but not new ones, which makes me a little sad. One of the great joys in being a computer guy is the satisfaction of picking out your individual parts and putting them together yourself. There is a lot of pride when you do that for the first time and you learn a lot about how computers work. I think that we should make kids learn how to build a computer in middle school just so they have a basic understanding of the things that run the world now. It's terrifying to me to talk to a twenty year old who doesn't know how to identify a USB cable or still turns off their computer by pushing the power button.
Since schools don't teach this to everyone, maybe any parents out there should take this sale as a starting point to teach their kids or themselves a bit more about computers by building their own. There is tons of material out there to help you figure it out!
Not looking for a new motherboard? Check out our NewEgg Canada Code page for other deals!