November 17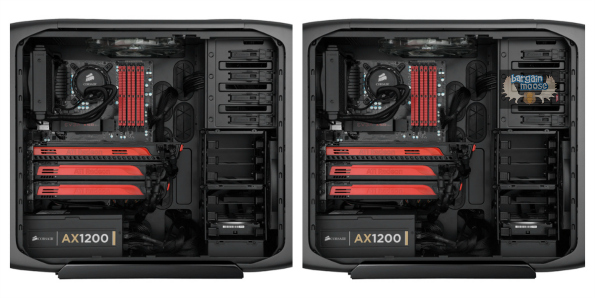 Only something this awesome could contain the glory of your gaming system and only NewEgg Canada could contain your glory for this cheap!
Here's the coupon code:
Coupon Code: CACorsair1
Discount: $20 off Corsair Graphite Series 600T
Expiry: 18th November 2012
After the coupon you still need to do a $20 mail in rebate (I know, it's a pain) but it's $20 for nothing so why not, right?
The last time I built a computer, I built it into a case like this. We have come far. Very, very far since those days. The thing that makes this case stand out is the insane rating it has. 93% of ratings are 4/5 or higher. Only 11 out of 161 people rated it 3/5 or lower. I'm not even going to talk about the case anymore, I'm just going to post some snippets from the comments.
From Seminull:
Pros: Everything. I originally didn't have this case in my cart until I read some reviews on it. Reviews matter. This case must be carved by Angels and examined by 70 virgins (nerds) because it's flawless.
From Jordan S.
BEST PART: CORSAIR 5 year RMA WARRANTY.

So today, after about 14 months of nonstop service, the top fan started to make an annoying intermittent rattling noise as if bearings are going bad or something is coming loose. went to corsair RMA site earlier, posted my case, and AMAZINGLY I got a response in my inbox in less than 2 hours with instructions on how to obtain a spare part for free from corsair's own shop. I did not even have to provide a credit card number, NOR DID I HAVE TO SEND ANYTHING BACK! not even the broken fan.
From Skibum
Corsair has set a new standard in case design and everyone else needs to catch up. As everyone has stated, the case is so well thought out it's amazing. Cut out in motherboard plate is large enough for all mobo. Tons of grommeted openings and tie down points for wire mangement. It's wide enough for ANY aftermarket cooler. You can remove the top fan and fit a radiator for water cooler under the grill. The grills are all air filters that are easily removed for cleaning The front control section is very stylish and the fan control knob doesn't feel cheap, like on so many other cases.
I'm going to call this a pro when many would disagree. the front USB3 connector is a pass through plug. Since the mobo I am using for this build has no internal USB3 header and only a rear I/O header, this is a pro for me.
People really, really love this case. I suggest taking a look through the reviews because you will learn things about the case that you can only really know from using it. It has a ton of awesome features.
(Expires: 18th November 2012)