November 19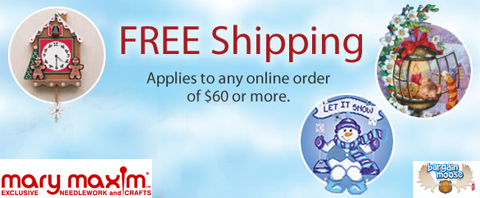 This is a coupon code for Marymaxim.ca, which will get you free shipping on a $60 spend, for this weekend only. Normally shipping can cost up to $19.95, so it gets you that for free. Thanks to Bargainmooser Dean for emailing this deal!
Click here to use the Marymaxim coupon code online
Coupon Code: FSBC
Discount: Free shipping on a $60 spend
Expires: 21st November 2010
I think this is a great site for you crafters and scrapbookers. They sell a load of craft supplies for many crafts like embriodery, crochet, knitting, quilting, jewellery making, and more. As well as the basic supplies, they also sell handy kits like these doll kits (which are a little bit freaky!).
I like arts and crafts a lot, but I just can't seem to find the time to do as much as I'd like. What happens is this – I take a fancy to a particular craft, I buy all the supplies, give it a try and find out it's a lot harder than I had first thought. Then I give up and move on to the next craft! Last year, I tried knitting again (haven't done it since I was a kid) and my scarf was lumpy and misshapen. Then I decided to try jewellery making, and I now have a box of random beads and bit and bobs that I haven't actually got round to doing something with.
What about you? Are you crafty?