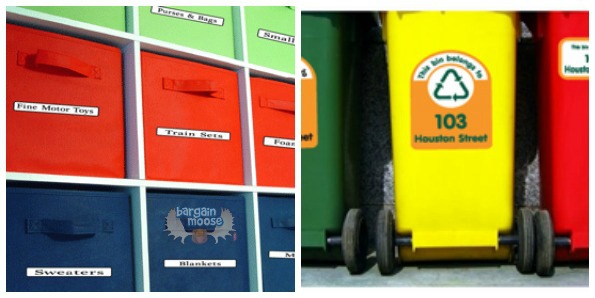 Get stocked up on labels with Bargainmoose's exclusive coupon for $5 off a $25 purchase at Lovable Labels Canada.
Click here to shop @ lovablelabels.ca
Coupon Code: MOOSE05
Discount: $5 Off a $25 Purchase
Expiry: 31st May 2013
What's great about this coupon code is that it is on a low spend of only $25, which is totally easy to spend at Lovable Labels. Don't just think that Lovable Labels only carries labels for kids' items. They have a huge array of labels to help you get organized right in the midst of your spring cleaning.
Check out these incredibly handy wire tags, which will keep all of your wires organized and completely reduce your stress. I am always finding wires, wondering what exactly they are for, and a few times this has happened after my dog has chewed through said wires. These pre-printed labels are easy to wrap around the wire so they stay on with ease. With over 100 labels you can label everything from your satellite tv receiver to  your iPod. I would have a field day wrapping every wire in the house and for only $14.95!
My husband absolutely loathes garbage day because he spends a good portion of time putting the recycling in the correct bins after the kids (and maybe me?) have thrown it into the wrong bins, or even worse, on the garage floor. These outdoor bin labels take out all the guesswork in knowing where the plastic, paper and other items go. Only $19.95. Buy these with the wire labels and get both for a total of $29.95.
Got a classroom or daycare that needs major organizing? The ultimate classroom bundle has everything, and I mean everything, you need to get those learning items in the proper order. Regularly $24.95, but get it for only $19.95. This would make a great gift for a new teacher!
Shipping is free!
Bargainmoose always has plenty of coupon codes in the forum and that's where you'll find the ones for Lovable Labels Canada.