February 10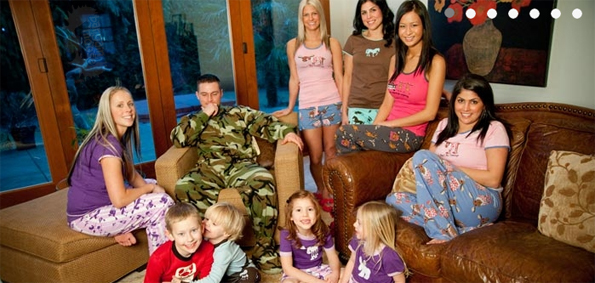 I've scored some more nice exclusive coupon codes for the Moosers now, they're for Canadian sleepwear boutique, Lazyone.ca. You can see loads of examples of Lazyone products in the image above.
Click here to use the Lazyone.ca coupon codes now
Coupon Code: FRBMSHIP
Discount: Free Shipping orders over $50
Coupon Code:  BRGMOO15
Discount:  15% off $25+
So here's the advice – have a browse around the Lazyone site to see if there's anything you like… pyjamas, onesies, kidswear, slippers. Pop it in your shopping cart and work out if the free shipping or the 15% discount works out best for you.
For example, orders between $25 and $50 would be best using the 15% coupon code, then orders above $50 (up to a certain spend) would probably be better getting the free shipping from Lazyone. I just tried the coupons on a test order of $56 – the 15% coupon code saved $8 but the shipping coupon code saved $16, so it would have been better to use.
I'll be honest, the guy in the camouflage onesie in the image above doesn't look too happy… ! But some of the kids items are incredibly cute and would make really good gifts, like this don't moose with me PJ set for $28.
We've had some Lazyone coupon codes over on our forums, and when I last blogged about a Lazyone discount code, I expressed my interest in the moose-assed adult onesie. Well, I did it…. I ordered one! I received my onesie last week, and I love it! I must say that I feel like a giant baby when wearing it, but it's super comfortable and warm. My sister came to visit early one morning, I answered the door while wearing my bug pink onesie, and she laughed her head off. It is quite comical looking, but hey, I'm comfy!
By the way, shipping was super fast after I made my order, just in case you're interested in making an order yourself.