June 23
Delicious deal! I've found a tasty free Laura Secord coupon to get you free scoops of ice-cream in-store @ Laura Secord Canada. If you buy 1 scoop, you get the 2nd for free!!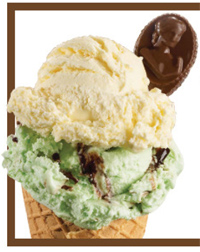 How yummy does that ice cream look! I want one now!
The Laura Secord coupon doesn't expire until the 31st of July 2009 so you have ages to use it! It does say that there's a limit of one coupon per customer, but I'm sure you could print it out a few times and use it on different days for extra scoopage!
UPDATE – there's also another active Laura Secord coupon for a free chocolate.
Expires 19th July 2009!