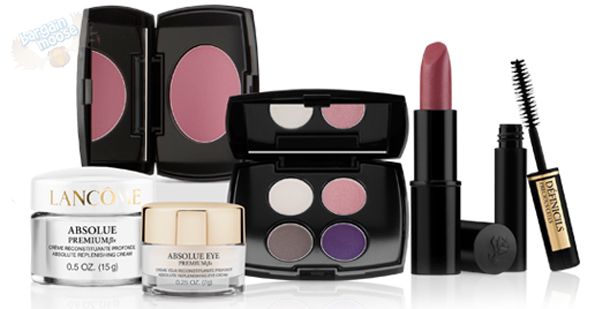 For the fans of the beauty brand Lancome, here's a super gift with purchase offer, than you can buy at the Lancome online store right now. It's a free luxurious 7 piece gift with any $50 purchase. It has a value of $177!
Click here to shop online @ Lancome Canada now
Coupon Code: SPRING13 (Expired)
Discount: Free 7 piece gift
Expires: Unknown
You'd need to spend $85 to get free shipping from Lancome Canada, so you might want to see about topping your order up to that level.
The free gift contains:
Absolue Yeux eye cream
Blush Subtil powder blush
Color design eyeshadow
Color Design lip color
Defenicils mascara
Absolue replenishing cream
I love getting this type of gift with purchase. When I am stocking up on foundation or moisturiser, I always wait until one of these free gift offers is available from the major beauty brands. I'm currently at the end of my tub of Estee Lauder face cream, and I've got a tub of Lancome on my shelf, ready to be opened. It's the Hydra Zen Neurocalm, and it's $68 on their site – so even a tub of that would qualify for the free gift above. I'm looking forward to opening it and seeing what it's like.
You know, I recently read somewhere that in these recessionary times, people are treating themselves to little luxuries more often, to things such as luxury beauty brands. I guess I do the same… they're little indulgences.