July 29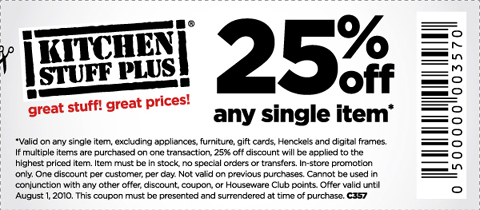 If you'd like to get hold of a unique 25 % coupon code for Kitchenstuffplus Canada, fill in the short survey at the link below and they will instantly give you a free coupon!
The printable coupon appears instantly on your screen at the end of the survey, so be sure to have your printer at the ready. It can be used in-store to claim 25% off a single item. There are a few exclusions though, so have a read of the small print before you run off to the store.
Many thanks to Bargainmooser Larissa for emailing us this deal!
(Ends 1st August 2010)