August 17
Posted by
Yanyi
on August 17, 2010 at 4:00 PM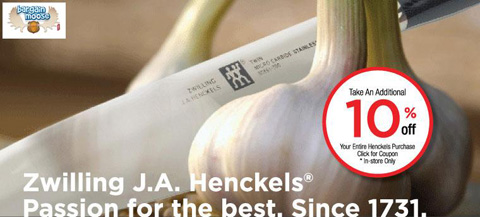 At Kitchen Stuff Plus Canada, Henckels products are always sold at 25% off suggested retail prices. You can use this printable coupon to save even more on Henckel products.
This coupon is for use until the 29th of August 2010, to be redeemed for 10% off all Henckels purchases in store. Items must be in stock. The limit is one coupon per customer, per day.
Henckels products are renowned for being durable and efficient. Whether moving into a new place, or you just want to update your kitchen supplies, this coupon helps to keep hard earned money in your pocket. Besides knives, I believe Henckels also makes great cookware and flatware.