September 21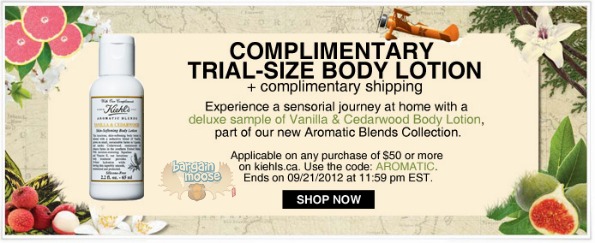 Kiehls Canada has a coupon code for a complimentary trial size Vanilla and Cedarwood body lotion plus free shipping with purchase of $50 or more. Offer expires on September 21st 2012.
Coupon code details:
Code: AROMATIC
Discount: Free Trial Size Body Lotion with $50 Purchase
Expiry: 21st September 2012
The sample of Vanilla and Cedarwood Body Lotion is part of their new Aromatic Blends Collection.
Spending $50 at Kiehls Canada would be quite easy, but it's difficult to choose which product you want. I think I might like to try this Abyssine Cream +that is $56. This is a skin-age deterrent made from natural ingredients to help reduce the signs of aging. The Abyssine is a survival molecule which thrives in extreme conditions in hydro-thermal ocean vents, so it has to be great for your skin.
It's always hard to find a good shampoo, but I like the sound of this Amino Acid Shampoo that is $64 for a one litre pump bottle. This is suitable for all hair types, being a milder shampoo. It sounds awesome with ingredients like wheat proteins and wheat starch.
Be sure to visit our Kiehls Canada Coupon Codes page for more deals!
Shipping: Free with code.
(Expiry: 21st September 2012)