September 19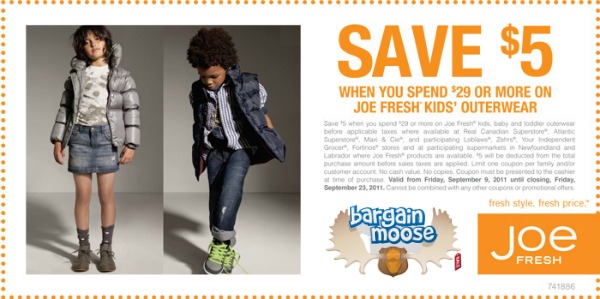 Just in time for the fall and winter weather, save $5 off kids outerwear and save $10 off adults outerwear at Joe Fresh. Use these printable coupons to save in store. Coupons are valid until Friday.
You can save $10 when you spend $49 or more on adult outerwear and $5 off kids outerwear when you spend $29 or more.
They've changed the website, so to scroll through the available coupons, just click the right or left arrow at the bottom of the screen.
There is a limit of one coupon per family or customer account.
My friend was on the hunt for puffy vests for her kids this weekend and couldn't find anything, but I'm guessing she didn't check out Joe Fresh. From the looks of this coupon, Joe Fresh has some cute little puffy vests for kids!
Expires: 23rd September, 2011