September 7
If you're a fan of the JeanMachine stores, you might like these printable coupons. Just print it out, and go to your nearest store, and they will give you a $10 discount when you spend $75 or more on Jeans there.Click the image below for the actual printable coupon.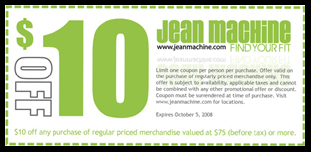 Jean Machine is an Ontario based, Canadian store. I'm a big fan of casual clothing… and an even bigger fan of Jeans! I have so many pairs, I just love them! I think I could even say that jeans are my favorite type of clothing!!
I love finding new bargains on cheap jeans and clothing, however I'm not as big a fan of the designer jeans though, I find them very expensive. Anyway, printable coupons like this are really handy to save me a few extra bucks! 
- Anna