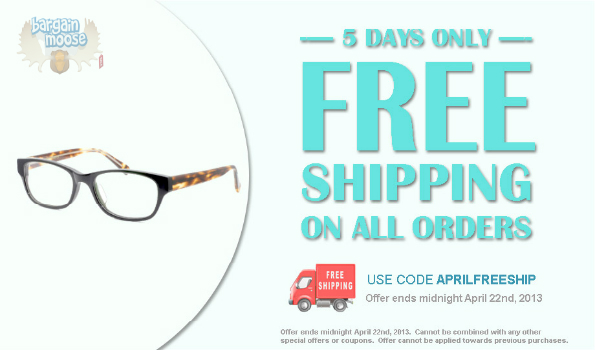 Need new glasses? How about some prescription sunglasses? How about FREE shipping on those glasses from iLookGlasses Canada? Yeah. That's what I thought.
Click here to shop for glasses @ iLookGlasses.ca
Coupon Code: APRILFREESHIP
Discount: FREE Shipping
Expiry: 22nd April 2013
I love all these new sites selling glasses for cheap. I've mentioned this before, but I remember when getting glasses could be a real financial strain on a family. At $200+ a pair, with multiple people in a family needing them, kids outgrowing or breaking them and prescription changes, it could quickly get out of hand.
If there is one thing that ruins online shopping a great deal, it's having to pay for shipping. I don't know why, but the shipping bugs me when it's for glasses. I just recently had to pay for a dress to be shipped here for my wife. I paid to have a tire shipped to me yesterday. At Christmas I ordered a few gifts that I had to pay shipping on. None of those bugged me, but paying for shipping on glasses annoys me. I have no idea why; it's just pure, irrational dislike for paying for shipping on glasses.
If you hate paying shipping for amazing prices on good quality glasses, then this deal is for you! Don't forget to look for more iLookGlasses coupons on the Bargainmoose forum. Do you have anything that just bugs you to have to pay shipping on? Let me know in the comments below and we can rant and rave like lunatics, together.
(Expires: 22nd April 2013)