April 24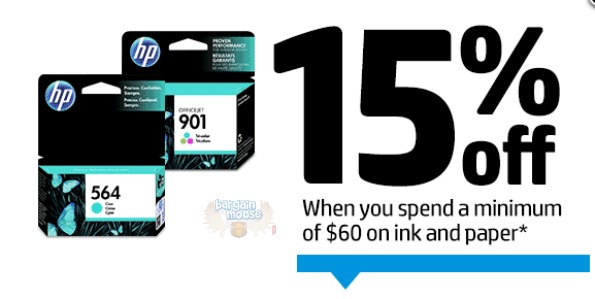 The HP Store is offering 15% off orders of $60 of original HP ink and paper. They are also offering 20% off orders of $75+ when you buy XL size ink or multipacks.
Click here to shop ink @ HP.com now
Coupon Code: EVERYDAY15
Discount: 15% off $60+
Coupon Code: VALUE20
Discount: 20% off $75+
I have an HP Photosmart printer that eats ink like no tomorrow. I swear, the thing goes through ink cartridges like my cat goes through food. I learned early on with this printer that it would reject refilled ink cartridges. I tried with three different refills and the printer kept giving me cartridge errors. Thus, I have had to stick to HP brand ink, which is rather expensive and rarely goes on sale.
Since HP ink rarely goes on sale, I was delighted to see these coupon codes. My printer takes HP61 cartridges. I would buy this HP 61XL High Yield Black Original Ink Cartridge for my printer to get the most ink for my dollar. It costs $31.99. With this sale I would buy two of those as black ink as my biggest expenditure and then get a HP 61XL High Yield Tri-color Original Ink Cartridge for $33.99. Three XL cartridges would usually cost me $97.97 but after coupon (use the second one on XL cartridges) my total cost would come down to $78.38.
Enjoy free shipping store wide!
For this and any future HP Store Canada coupon codes, check out the forum.