June 12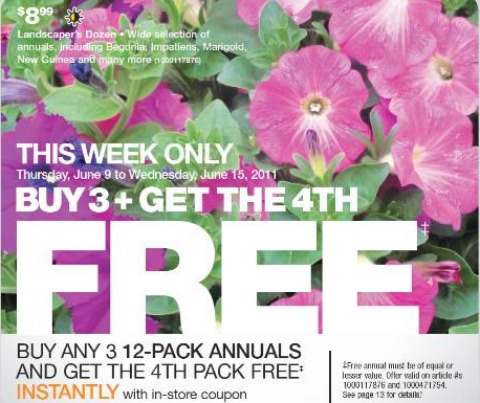 Until 15th June, buy any 3 twelve packs of annuals and get a 4th pack for free instantly with the in store coupon from the Home Depot Canada.
When I stopped by Home Depot this afternoon, I asked an associate for a coupon and she told me that the cashier had them available at the till.
The free annual pack must be of equal or lesser value. The Landscaper's Dozen Annual Packs advertised in the flyer are priced at $8.99 and include flowers such as Begonias, Impatiens, Marigolds, New Guineas and more.
If you haven't picked up annuals for your garden yet, it's time to get it done now that the risk of a late spring frost is over (well, it better be!). I've had great success this year with wave petunias. It's amazing how large they've grown in just a few weeks. I hope I can keep them blooming all summer long!
(Ends 15th June 2011)