January 10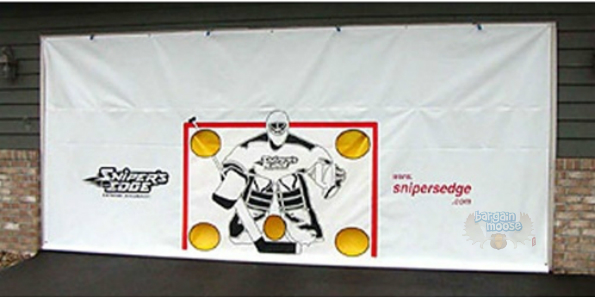 Practice your shots in style and for less, courtesy of HockeyShot Canada!
Click here to buy hockey tarps @ HockeyShot.ca now
Coupon code: HCKEYTARPS20
Discount: 20% off Hockey Tarps
Expiry: Unknown
I didn't actually know what a shooting tarp was until I saw this deal. Actually, I know what it was, I just didn't know what it was called, and I didn't realize they got so fancy. A shooting tarp, to me, is a bed sheet with targets drawn on it, maybe stuck to the front of a net. These things are crazy. I'm talking about a 16′ wide monster that is designed to cover the entire front opening of your garage. Of course, they do have a more advanced version of the bed-sheet-in-the-net thing I played around with.
I went to college with a goalie who, for his final project, made a practice net. Being that we were in electrical engineering, it was a bit fancier than a tarp. He had this thing completely decked out with counters and everything. It was really cool. I think that goes to show how important it is to hockey players to have a piece of practice gear like this.
I'm not a hockey player, so they seem really pricey to me, but I looked around and the prices are really good. With the 20% off coupon code they suddenly have a great price. They sell for a bit under $200 on the low end and over $400 on the high end.
Shipping is based on where you are and what you get.
For more great deals check out our HockeyShot Canada Coupon page!