January 25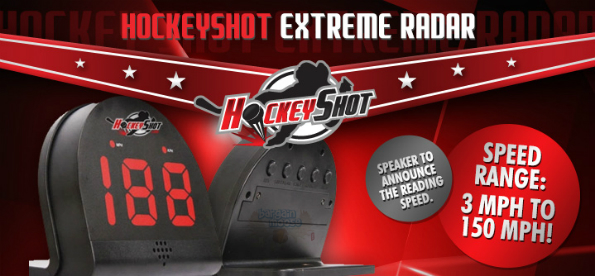 Get the fastest shot in Canada with the Hockey Shot Extreme Radar Gun for 20% off!
Click here to get the Extreme Radar Gun @ HockeyShot.com now
Coupon Code: HSRADAR20
Discount: 20% off Hockey Shot Extreme Radar Gun
Expiry: Unknown
Well, maybe you won't be the fastest shot because of this, but you can check out how fast your shot is with it. It's a great training aid and a good way to set goals for yourself. The radar is competing with the SpeedTrac radar, also sold at HockeyShot, and is currently on sale for $104.95 which is $35 less than the SpeedTrac. On top of that, you get 20% off with this coupon, so you save another $20.99 and end up getting this for $83.96. That's a pretty sweet deal.
It has a ton of features, too. It has a tripod mount, a KMH/MPH switch, a huge LED display and a voice mode where it will call out your speed to you. You can even set it to pick up if you're standing still while shooting or if you're skating towards the unit, so it won't get confused by the person coming at it. It has a bit of memory, so you can review your last ten shot speeds.
I'm not a hockey player at all, but there is a really good review on YouTube. It's done by the guys at HockeyReview HQ and if you're looking at getting this item, you should definitely check it out. They do really good work over there.
Shipping is extra and is based on where you live. The coupon has no expiry so it could end any time. The review I mentioned above was only put out two days ago, so I'm thinking maybe the sale and the discount is to launch the new product, but I'm really not sure.
Hockey players, is this something you would use or have used? Let me know in the comments below!
Be the best with Hockey Shot Coupons from BargainMoose!