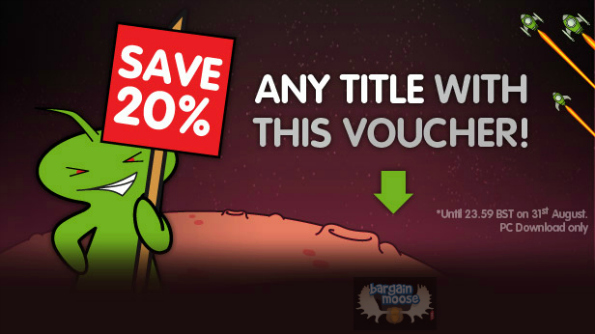 That's right, every PC game you can download from GreenManGaming is 20% off.
This is the coupon code you want:
Discount: 20% off
Coupon Code: DERHE-RRDER-RINGE
Expiry: 31st, August 2012, 6:59PM ET
This is just a fantastic deal all around. Most of the deals I do are very specific to certain items. It's great to tell my readers to just go buy whatever you want, save money. Huzzah!
Even for people who aren't hardcore PC gamers, this is a good deal. There are a lot of casual games. There are even some games, like World of Goo, that you might have played on your phone or tablet. Truly something for everyone!
They also have a lot of big name games like Borderlands 2, Guildwars 2 and Skyrin: Dawnguards. So again, something for everyone!
I'm mainly a console and mobile gamer so this specific deal isn't overly exciting for me but it makes me wish I was a PC gamer. You never see blanket sales on PSN or on every physical PS3 game in a store. I guess that is the beauty of being a company who is trying to play in the same space as companies like Steam and EA Origin. You can't compete on size, but you can undercut them on price to bring in the customers. That means good thing for you, the consumer.
(Expires: 31st August 2012, 6:59 ET)