September 4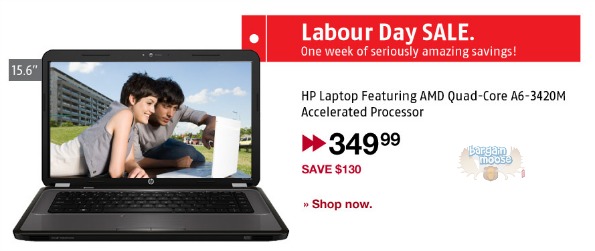 Future Shop has a pretty good deal on a HP 15.6″ AMD Quad-Core A6-3420M Laptop. This is a good entry level laptop, and the price is pretty alluring too. Priced at $349.99 it is $130 off the regular price.
The laptop was so popular it is backordered to the 10th of September… but you can still order it. It has good stats for this price range:
750 GB HD
4 GB RAM
15.6″ screen
built in memory card reader
and more!
I couldn't find this exact model elsewhere after a quick search, but similar models were generally priced $450 and higher. I really like the built in memory card reader. I use my camera a LOT and just being able to pop out the SD card and put it in the side of my computer is a massive time saver.
Expiry: 6th, September 2012