July 6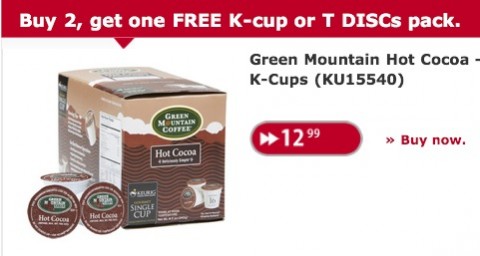 If you are a Tassimo or Keurig user, you'll want to know about this sale! Future Shop has both Tassimo T Discs and Keurig K Cups on sale right now. When you buy 2, you'll get 1 free!
I'm a Tassimo girl, so I can recommend the Suchars Hot Chocolate (8 discs) for $3.99, and the Twinnings Green Tea (8 discs) for $3.99. Both can sometimes be hard to find in stores, so it's a great time to stock up.
My friend has a Keurig and also likes the Green Mountain Hot Chocolate (16 K Cups) for $12.99 or the Timothy's French Vanilla Coffee (18 K Cups) for $12.99.
This must have been a hot sale as a lot of the coffee is sold out online. If you can't find your variety online, it's worth a trip to your Future Shop to check out the selection that they have in store.
You'll also get free shipping with orders over $20.