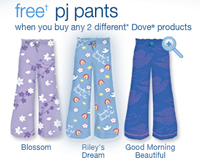 Bumping 12th June 2009: This great offer was originally posted back in February, but has now been updated!
February 27th 2009: When you go to the dovesleepover.ca website, click on "free PJ pants" at the top. You can see that Dove Canada is giving away free pyjama pants when you purchase 2 different Dove products.
Make sure you place your order before the 6th of March, 31st August 2009. You can choose from Blossom, Good Morning Beautiful or Riley's Dream. I prefer the "Good Morning Beautiful" choice. It looks like you have to pay $5.95 for shipping and handling on them, but that's still a decent price for these PJ Pants.
I do like Dove products, I think their creamy shower gel is really good – it leaves my skin feeling super soft and lovely. It would be very easy to purchase any 2 Dove products and take advantage of this offer. If you previously ordered this Save.ca coupon for BOGO on the Dove cream oil bodywash, perhaps you could even use that as one of your products.