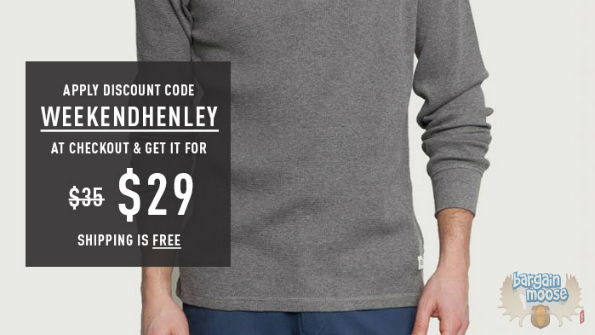 Who is Lewis Henley? I dunno but he has a very nice shirt! Frank and Oak want you to have Mr. Henley's shirt for only $29 and they want to ship it to you for FREE.
 Get The Lewis Henley in Coal @ FrankAndOak.com
Coupon Code: WEEKENDHENLEY
Discount: $6 Off The Lewis Henley in Coal
Expiry: 7th April 2013, Midnight ET
The shirt is normally $35 but you are saving $6, which means you only pay
$29
. Shipping is FREE and this deal is only available to first time buyers. The code will only show the discount as you proceed through the checkout so don't spend five minutes applying and re-applying the code, trying to get it to work.
No, I don't know who Lewis Henley is but I certainly do know the story of Frank and his loyal manservant, Oak. You see, Frank loved Lewis Henley. Henley was Frank's mentor until one day Henley was gone. There was no warning for Frank – he just woke up and Henley was gone. For days Frank just sat by the front door, waiting for Henley to come back, but he never did.
So Frank did what he always did. He trained. For six years he trained. Eighteen hours a day for six years, stopping only to eat and sleep. The money ran out and eventually, one by one, Henley's servants left. Frank didn't notice. He just trained and on the sixth year anniversary of Henley's disappearance, he too disappeared. Before he left though, he entered his former mentor's room and removed one item, a coal coloured shirt.
The shirt he removed, Henley's shirt, is a wardrobe staple that should be seen as something between a tee and a polo. Always comfortable with its ultra soft waffled cotton, Frank found that this piece accentuated the male form. Keeping true to Henley's impeccable taste, the fated garment was made of 100% cotton.
And that, friends, is part of the story of Frank. Nowadays the company that partially bears Frank's name, Frank & Oak, is selling the Lewis Henley in coal for $6 off to represent the six years of training Frank endured. They ship it for free to represent the freedom that Frank felt as he left Henley manor.
For more of the story of Frank and his loyal manservant Oak, watch for more Frank and Oak articles written by me! For more Frank and Oak deals, check out our Frank & Oak Coupon code page!