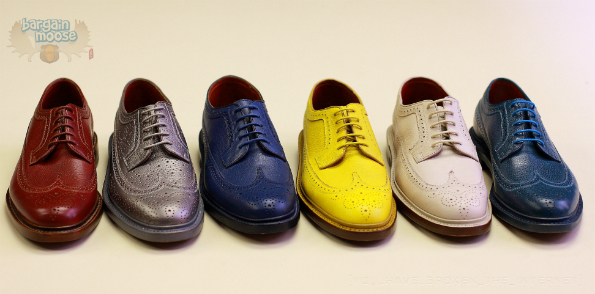 You ever want to kick a random stranger right in the face? Me too. So when you do it, and you know you will, do it in style and on the cheap with this deal on Florsheim Shoes!
Click here to buy men's and boy's shoes @ FlorsheimShoes.ca
Coupon Code: MOOSE15
Discount: 15% Off Men's and Boy's Shoes
Expiry: 5th May 2013
Listen, I know there are tons of legitimate reasons to have awesome shoes. Actually, having awesome shoes is, in itself, a legitimate reason. Think about it. How often, honestly, are you going to NEED awesome shoes? An interview? For work? Nah, you can just color your sneakers in with a black marker, no one will ever know the difference. Why? No one looks at or cares about your shoes… unless you use those shoes to physically assault a stranger! See what I'm getting at here? At some point, your feet could be famous. Make them dress for the occasion. How great would your feet look on the evening news in these:
They also have kids shoes for your little juvenile accessory to a crime:
Kennett Jr – Was $59.95 – Save $8.99 – Now $50.96
Bogan Jr - Was $59.95 – Save $8.99 – Now $50.96
These are some really awesome, high quality shoes, and if there is a possibility that a local news crew is going to be focusing on your ankle shackles, these shoes will show everyone that you're a classy criminal. Look for more dangerous deals on Florsheim Shoes at the Bargainmoose forums.
Shipping is free when you spend $100 or more; or if your order is less than $100, a flat fee of $8 will be added to your total.