February 16
Join Fitness Depot's Aspire Rewards Program online, and they will send you out a free coupon to get you a $20 discount on your next spend of $100 or more.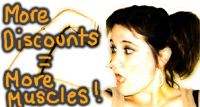 Click here to join the Fitness Depot's Aspire Rewards Program.
Or click here to print out the free printable coupon without bothering to sign up.
And click here for their Canadian store locator.
If you need some new fitness equipment, the discount coupon could be very useful. Perhaps you could put it towards a new treadmill, to run off all that cake you have been eating? Or a new stepper machine so you can work on those flabby thighs? I know – you need a new set of weights so you can sit on the sofa and watch TV while you work on your muscle-bound arms!? The free coupon expires on the 31st of December 2009!
I don't think they sell the Wii Fit though!
Thanks kimrose…!