February 8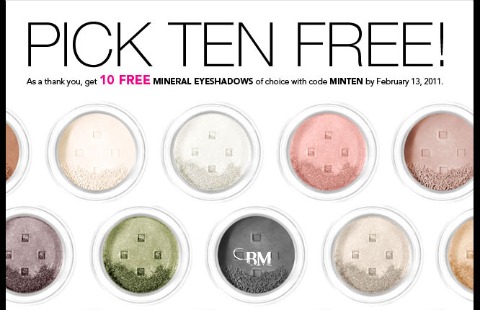 Elf Cosmetics sent out a sweet deal to get 10 free mineral eyeshadows when you are making a purchase of $25 or more. Each mineral eyeshadow costs $3.00 regular, so 10 x $3 = $30 worth of free product! There are 25 colours to choose from.
Click here to pick out your 10 free eyeshadows
Discount: 10 free eyeshadow with $25 purchase
Coupon Code: MINTEN
Expires: 13th, February 2011
This eyeshadow has an amazing rating of 4.5/5 starts with 923 reviews! Here was the latest review on the ELF website:
I love this eyeshadow!!! I'm not the type to take time to write reviews but I don't mind taking the time to write about this product! I love the look of these eyeshadows. I love the shimmer look and the color lasts a long time. This is a great product for all women!!
Remember: Check out with PAYPAL: you will get cheaper shipping (don't sign in to your account or you will be unable to do this).