February 16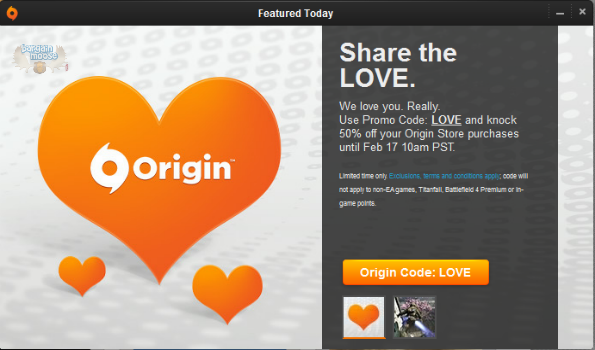 EA Origin loves you and is giving you 50% off just to prove it!
Click here to shop @ Origin.com
Coupon Code: LOVE
Discount: 50% Off
Expiry: 17th February 2014
Valentine's Day is over but you can still show someone you love them by picking them up a video game. You can love your wallet by getting it for 50% off! You don't often see storewide sales like this with Origin and when you do, you rarely see them for this much off. Unfortunately it doesn't apply to everything in the store. I don't really know which ones though. It applied to Battlefield 4, which is fairly new and selling like nuts. Assassin's Creed 4: Black Flag, however, isn't covered by this coupon code. Not sure why.
But it isn't just BF4 and AC4, it's games like Plants Vs. Zombie, Peggle, Feeding Frenzy 2, Monopoly and Bejeweled 3. All those casual games you play on your phone can be enjoyed on your PC (and sometimes Mac) as well when you get them through EA Origin. There are tons of great older games that you can pick up as well. All the Sim City games, Dead Space, The Walking Dead, The Sims 3 and all it's expansions.
A lot of people don't like EA because they've bought up a lot of the big game studios but when it comes to sales like this it's nice that companies like Maxis have been subsumed in to EA.
All the games are Digital Downloads so you don't have to worry about shipping.
Check out all out EA Origin Coupon Codes!