September 15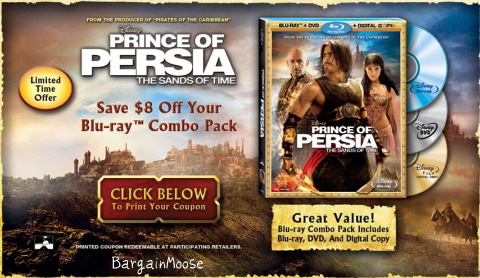 With the release of the Prince of Persia movie Disney has also released an online coupon to subsidize it's purchase. If you are looking to get the Blu-Ray combo pack this coupon will give you $8.00 off the going price.
Just scroll down to the bottom and click the "Get Coupon" button. It will walk you through the steps to print off. If you have never printed a Disney coupon before you may need to install some special software. If you are from Quebec there is a special link a little higher up for you to print your coupon in either English or French.
The coupon expires 28th September 2010, and is printable till the 27th, or while quantities last. Limit of two per computer.
I have printed and used one of these coupons before for Alice in Wonderland and it was accepted with no problems at Blockbuster. I have not seen the Prince of Persia movie, was it any good?