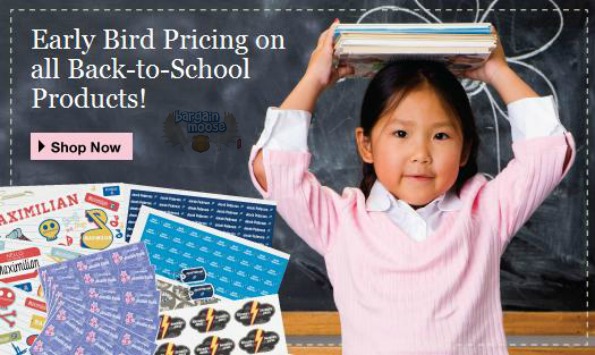 With back to school just around the corner, it is time to start thinking about what the kids will need.  We all know that they will need new clothes, shoes, and school supplies but what about back packs, bags, and lunch items.  With kids bringing so many things to school, they often get lost because everyones looks the same so you will spend even more money replacing the items that they lost at school.
A great way to make sure what you send into school comes home with your child is with labels.  Right now, there are some awesome coupon codes out that will give bargainmoose shoppers exclusive discounts. Pair these with some of the back to school specials happening, and you will save big!
Here is a look at a few exclusive bargainmoose coupon codes that will save you big money on labels:
I actually have a label maker and love to label items around the house in containers and such.  When it comes to my kids clothing and items though, I find that the home labels don't fare well with washing like the professional ones from some of these websites.  When kids clothing, lunch containers and other items like this get washed so much, these labels are awesome.
By spending a little money on some labels for your kids items for back to school, you will save a ton of money in Tupperware, gym clothes, shoes and clothing in the long run.
Expiry: Various