February 16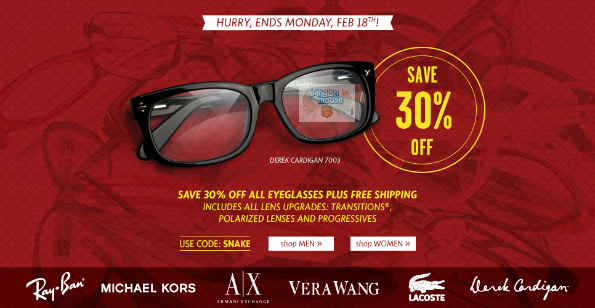 Clearly Contacts Canada is celebrating Chinese New Year with a great coupon for 30% off your glasses and free shipping!
Click here to shop for glasses @ ClearlyContacts.ca
Coupon Code: SNAKE
Discount: 30% Off Glasses + FREE Shipping
Expiry: 18th February 2013
First off, I feel like this may have restrictions. I don't know for sure though. Just make sure you check your totals before checking out.
These online glasses places are great. I remember the financial hardship my mom went through when I needed glasses as a kid. I'm glad that places like Clearly Contacts Canada are around to make it easier. Having a sale like this makes it even better.
I always find it funny and interesting to see what holidays retailers use to sell a product. In the states, Memorial Day sales are normal, but if anyone had a Remembrance Day sale in Canada, they'd be on the evening news. This sale is for Chinese New Year. It's the year of the snake, hence the coupon code. Maybe they chose Chinese New Year because they make all their money off of products made in China, but it seems more likely that someone just wanted to make a few more sales this quarter. Oh well; regardless of the reason, we're getting a good sale!
(Expires: 18th February 2013)