August 24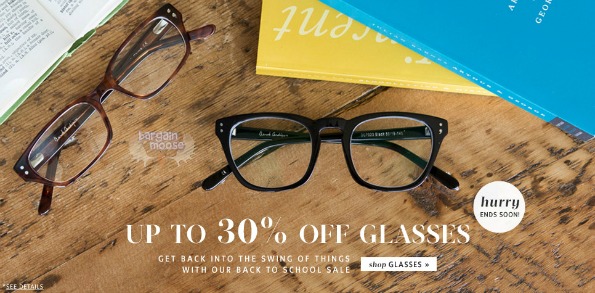 Start school with a new pair of glasses, or get stocked up with a year's supply of contact lenses. You'll get 30% off the glasses or sunglasses, and you'll save up to $150 off your year supply of contacts.
Click here to shop @ Clearlycontacts.ca now
Coupon Code: SUN30
Discount: 30% off sunglasses
Expiry: Unknown
I wear both glasses and contacts and I tell you, it gets expensive! I'm really hoping the kids don't need glasses on top of mine, since my spending for that each year is high. It is great when there is a deal on both, so I can get a new pair and not have to remortgage my home. I also like stocking up on my contact lenses because if I don't, I will run out and not even know it until I need some.
These Hugo Boss in Havana pink plum are too cool for school (or just cool enough for school). Was $199.99, now $138.99.
For your sunglasses purchase, check out these Emporio Armani palladium sunglasses. Was $109, with coupon get them for $76.30.
I use these Acuvue moist 1 day contact lenses because I am much too lazy to clean my contacts, plus it could be several days before I wear them again, so it is best to have a one day brand. I find these great for my dry eyes, plus the price point is not too bad. Was $34.99, now $32.99 for one box, or buy 12 boxes for only $29.99 per box.
Shipping is free when you spend over $99.
The Bargainmoose forum is where we keep all the coupon codes for Clearly Contacts.