September 2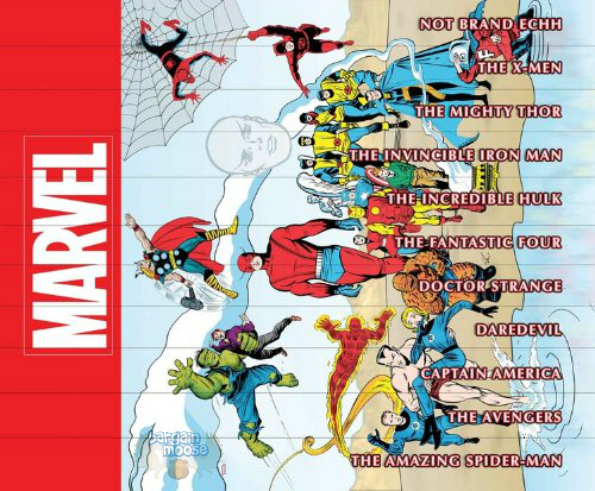 I think I just had a heart attack when I saw this deal. First off all an ANNOUNCEMENT! Marvel is releasing a HUGE compendium of their hardcover Masterworks books (and extras!) called Marvel Famous Firsts: 75th Anniversary Masterworks Slipcase Set. This set is on pre-order at Chapters AND on sale at the same time. Pre-order your copy for $237.50 with your plum rewards. The retail price will be $500! The set will be released on the 23rd of September 2014.
Chapters Canada is kicking the competition to the curb on this deal. Amazon.ca has the set for pre-order as well, but they are charging $313.50. That is an entire $76 more for this enormous (and worth every penny) collection of Masterworks volumes.
This slipcase set includes 10 popular Masterworks hardcovers that have been released before. The set also includes NOT BRAND ECHH VOL. 1 and the AMAZING SPIDER-MAN #1 75TH Anniversary by Alex Ross Poster signed by Stan Lee. Here is a complete list of the books included:
CAPTAIN AMERICA VOL. 1 HC 
264 pgs./collecting Tales of Suspense #59-81.
DAREDEVIL VOL. 1 HC
256 pgs./collecting Daredevil #1-11.
DOCTOR STRANGE VOL. 1 HC
328 pgs./collecting Strange Tales #110-111 and #114-141, and Amazing Spider-Man Annual #2.
NOT BRAND ECHH VOL. 1 HC
456 pgs./collecting NOT BRAND ECHH #1-13; and material from Amazing Spider-Man Annual #5, Avengers Annual #2, Daredevil Annual #1, Fantastic Four Annual #5 and Sgt. Fury Annual #4.
THE AMAZING SPIDER-MAN VOL. 1 HC
272 pgs./collecting Amazing Fantasy #15 and Amazing Spider-Man #1-10.
THE AVENGERS VOL. 1 HC
248 pgs./collecting Avengers #1-10.
THE FANTASTIC FOUR VOL. 1 HC
272 pgs./collecting Fantastic Four #1-10.
THE INCREDIBLE HULK VOL. 1 HC
176 pgs./collecting Hulk #1-6.
THE INVINCIBLE IRON MAN VOL. 1 HC
208 pgs./collecting Tales of Suspense #39-50
THE MIGHTY THOR VOL. 1 HC
280 pgs./collecting Journey into Mystery #83-100
THE X-MEN VOL. 1 HC
248 pgs./collecting X-Men #1-10
That gives you eleven volumes and one awesome signed poster by the godfather of comics: Stan Lee. If my calculations are correct, then you are receiving 3,008 pages of amazing classic comic content for your money. At this price, you are paying only 12.7 cents a page excluding the signed poster, the beautiful hardcover volumes, and the matching slipcover that houses all these books. Some people would pay over $200 just for Stan Lee's signature!
This makes a great gift for yourself or for someone you love. Consider it the ultimate Christmas gift for your comic loving family member. While Christmas may not be for a few months, I like to plan ahead and buy gifts early for the best deals. Surprisingly, this box set still qualifies for free shipping despite its enormous size and weight.
(Expiry: 8th September 2014)