November 3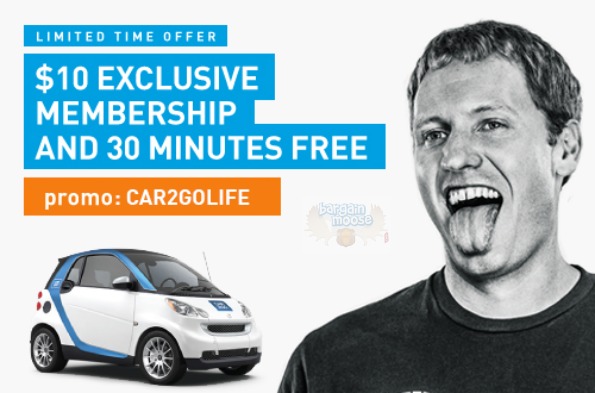 I am a big fan of community owned vehicles that cut down on expenses for all. Car2go is another one of such programs and their Canadian branches have a coupon code that will give you membership for only $10 with free 30 minutes of driving. If you are in Montreal, you get free membership.
Click here to check out Car2go now
Coupon Code: CAR2GOLIFE
Discount: $10 membership + free 30 minutes
Expiry: Unknown
Coupon Code: PATINS (Montreal only)
Discount: FREE membership + free 30 minutes
Expiry: Unknown
Yup, in Montreal you don't even have to pay the $10 for membership! This company operates in Vancouver, Toronto, Calgary, and Montreal.
I have long since known that if I lived in a big enough city, I would not own a car. Rather, I would hold membership to a company like this and just use a car whenever I needed. No maintenance fees, no lease, no insurance, and no registration. Hello lots of saved money!
The registration fee is usually $35, so you are saving a nice chunk of money right there: $25 already (or $35 in Montreal). Then you are saving around $6 – $11 for that free half hour, depending on whether you are being charged by the minute (for a really short duration) or by the hour. Either way, you are saving a nice little bundle of cash, saving the environment, and saving yourself a lot of money down the road with these Car2go coupons.
This is also a new to the Bargainmoose company, so give them a warm welcome!