February 26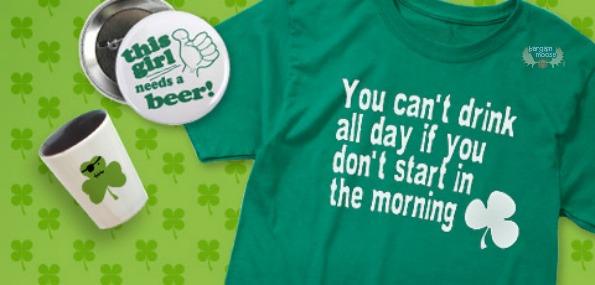 If you subscribe to our weekly Mooseletter, you'll already know about this great deal. If you don't subscribe, you might want to rethink that. Sometimes we'll let some great exclusive deals slip into the newsletter, so that only subscribers know about them first! Signing up is totally easy. Get free shipping on a $55 purchase from CafePress with our exclusive promo code.
Click here to shop @ Cafepress.ca now
Coupon Code: MOOSE55
Discount: Free shipping
Expiry: 28th February 2014
This deal is only on for two short days, so you might want to take advantage immediately. Shipping can get pricey from CafePress, depending on what you buy, and there is no free shipping on a minimum purchase normally. So what you buy, you pay for shipping. This is a time to stock up!
Cafepress is a fabulous place to get all your St. Patrick's Day gear.
While my kids aren't Irish, two of my kids have Irish-derived names, and I'm sure there is some Irish in our backgrounds somewhere, so this A Wee Bit Irish t-shirt is perfect. It is also on sale, which is sweet, for $22.50, was $30.50.
I found it a little bit odd that there is an Irish Drinking Kid's clothing section, but hey, who am I to judge.
Check out the Bargainmoose forum where we keep all these wonderful exclusive CafePress coupons.