April 17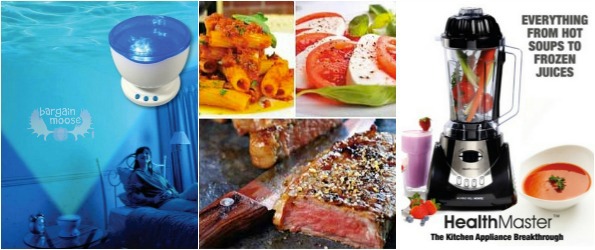 Once again Bargainmoose has an amazing exclusive deal for you! Get an additional 10% off deals that are already reduced by 50% to 90% at Buytopia Canada for three days only.
Click here to shop @ Buytopia.ca
Coupon Code: MOOSE10
Discount: Extra 10% Off
Expiry: 19th April 2013
With so many great deals already on, I love that you can get an extra 10% off those deals!
This Your Ex 6-Piece Knife Set is one of the most hilarious things ever! Stick a knife in him, he's done! Not just do you get some catharsis, you get some pretty nice knives too. For once that ex will be of some use to you. With a regular price of $170, on sale for $42, get it for $37.80 with promo code.
This Infrared Ear Thermometer is definitely a great deal. In my opinion, you get the best temperature reading from the ear (with the exception of one other hard-to-reach spot). Regularly $45, on sale for $19, but get it for only $17.10 after the extra 10% discount is applied.
This Conair Ultimate Upright Fabric Steamer is also an excellent deal. This is a must-have if you are getting married soon and you know that your dress will be going through some ruffling. When I was away on my weddingmoon, I actually saw a woman bring this for her wedding dress since she knew it might get messed up during the flight. Regularly $168, on sale for $69, you'll get it for $62.10, thanks to Bargainmoose.
Shipping varies depending what you're buying, or if you're buying a gift voucher (in which case, there wouldn't be any shipping fees anyway).
Check the Bargainmoose forum regularly for more Buytopia coupons.