January 25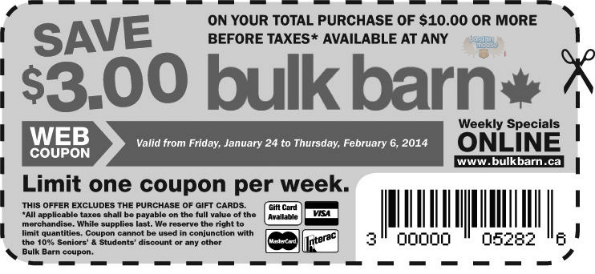 Stock up on sugar and spice and everything nice with this printable coupon from Bulk Barn!
Yeah, I said sugar and spice, but really it's the candy store. When we drive by a Bulk Barn, my son yells out "Can we get candy at the candy store!?" Yep. The good ol' BB Candy Store. I think it's the candy store for a lot of people of my generation. Maybe it's not just my generation, but when I see people who are a bit older, it seems they are always buying tea bags, bird seed or flour. Never anything fun. That's interesting, actually. How old are you and what do you buy at the bulk barn? Let me know in the comments below!
The BB Candy store is so much a candy store that I was listening to someone preach at my church once and he mentioned how, to his kids, it's the BB Candy store and his son (who is a few years younger than me) stood up, fished a huge bag of candy (Mini Eggs, I think) out of his jacket and hurled it up on the platform. Priceless. As awesome as that was, it would have been better if he had mentioned it being a place to buy spices and some baby boomer stood up and tossed a bag of flour on to the platform.
Regardless of what you are doing, this is a great coupon. Buy $10 worth of stuff (not hard to do) and get $3 off: instant 30% off. Of course, if you buy $50 worth of stuff, the $3 off isn't as good a deal, but still, $3 off is $3 off! It's a printable coupon, but you might be able to get by with showing it on your phone. Don't count on it though.
BargainMoose has all the Bulk Barn Coupons around so click! Cliiiiick. Click.
(Expires: 6th February 2014)