November 21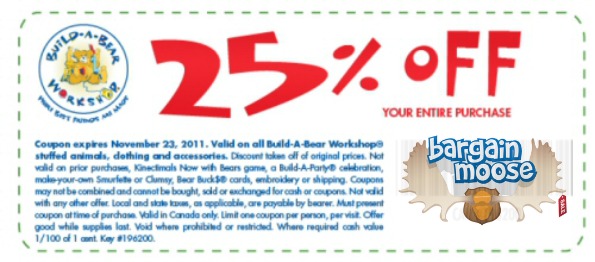 Save a wonderful 25% off your entire purchase at Build A Bear until 23rd November, 2011. Use the printable coupon below to save in stores.
You can use the coupon to save on stuffed animals, clothing and accessories at Build A Bear, with no minimum purchase required.
We were at the mall last week and the kids wanted to look through Build A Bear. They really do have everything there. I love the skates and hockey outfits and the fluffy wedding dresses!
If Build A Bear is on your holiday shopping list, use the coupon to get more while staying within your budget. Lots of times people have a limit they spend on friends or family, say $25. With the coupon, you can spend an extra $8 while still staying under the $25 budget!