December 5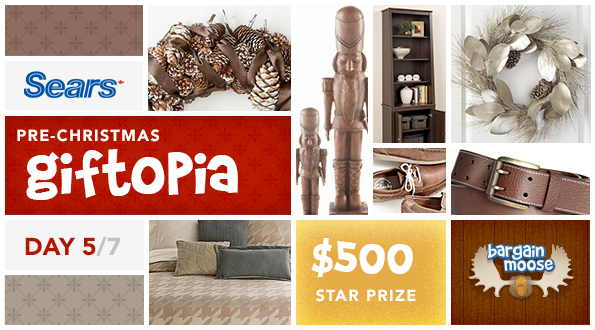 *** Contest now closed, winner was Mooser Nicolthepickle ***
On the fifth day of Christmas, my true moose gave to me… another set of bonus giftopia entries into a contest to win a share in $1200 in Sears gift cards! As you probably have seen by now, we're giving away 7x $100 Sears gift cards, and one extra special $500 Sears grand prize. Remember, if you haven't left a comment in the main contest post, leave a comment there to gain some extra contest entries.
I've had a look on the Sears site today to see if there are any offers of note, here are a few:
How to enter the Sears.ca Giftopia Day 5 contest today:
Think on this:
Check out the boot event, a footwear sale currently happening at Sears. If you had to get a new pair of winter boots, which would you choose?
All contest entries on this blog post today will be put into the daily draw for a Sears $100 gift voucher, as well as getting a bonus entry for the $500 Sears star prize.
Bonus Giftopia entries today:
Leave a link to this Sears Giftopia on Twitter, ensure you include @bargainmoose in the tweet
Re-pin this contest on your Pinterest boards, and follow us too
Post a link to our Sears Giftopia on your Facebook wall and share with your friends, make sure you like Bargainmoose on there
Don't forget:
Come back tomorrow to have another go for a daily $100 Sears gift voucher, as well as some bonus entries for the $500 Sears grand prize!
Contest Rules:
Canadian entrants only. One type of entry per household. Giftopia prizes limited to one per household. Ends 5th December 2013, 11.59PM EST. No purchase necessary. Odds of winning depend on the number of eligible entries received. Duplicate, incomplete or illegible entries will be disqualified. Entrants must be age 19 or over in BC, NB, NL, or aged 18 or over if from AB, MB, ON, PEI, QC & SK. Contest subject to change at admin's discretion.