December 4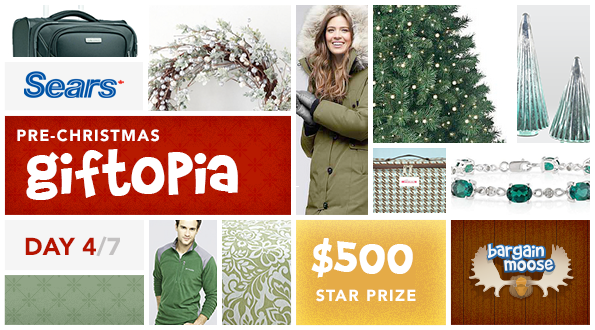 *** Contest now closed, winner was Mooser Shirley ***
Christmas is creeping ever closer…. I write this Sears contest every day and realise that December is slowly starting to creep away, and I haven't even done my own Christmas shopping yet! I've been too busy on Bargainmoose to give myself a minute to buy anything, so I've made a vow to get it started this week. If you'd like a little help with your own Christmas shopping – you might be interested in winning a share in $1200 Sears gift vouchers, which we are giving away to the Moosers this week! In today's portion of the contest, someone will win a $100 Sears gift cards, plus you can gain bonus entries into the main contest to win the $500 Sears grand prize.
And for your shopping pleasure today, Sears.ca is offering a few more special one-day gift ideas:
There are lots of things to make you nice and cosy on Christmas morning. You could also check out the wrong season right price sale – where Sears are offering up to 55% off select fashions and footwear. For the ladies, there are a lot of great prices on sandals, so you could stock up on a new pair for spring (which seems so far away right now)! Remember also that you can get $10 off your next purchase of $50 or more when you sign up to receive the Sears eNewsletter.
How to enter the Sears.ca Giftopia Day 4 contest today:
Please have a read of this and comment below:
A friend was telling me that it is tradition in their family to always get a new pair of pyjamas for Christmas, and that's the pressie they get to open on Christmas Eve. Are there any little traditions in your family that you do every year? Share in the comments below.
All contest entries on this blog post today will be put into the daily draw for a Sears $100 gift voucher, as well as getting a bonus entry for the $500 Sears star prize.
Bonus Giftopia entries today:
Leave a link to this Sears Giftopia on Twitter, ensure you include @bargainmoose in the tweet
Re-pin this contest on your Pinterest boards, and follow us too
Post a link to our Sears Giftopia on your Facebook wall and share with your friends, make sure you like Bargainmoose on there
Don't forget:
Come back tomorrow to have another go for a daily $100 Sears gift voucher, as well as some bonus entries for the $500 Sears grand prize!
Contest Rules:
Canadian entrants only. One type of entry per household. Giftopia prizes limited to one per household. Ends 4th December 2013, 11.59PM EST. No purchase necessary. Odds of winning depend on the number of eligible entries received. Duplicate, incomplete or illegible entries will be disqualified. Entrants must be age 19 or over in BC, NB, NL, or aged 18 or over if from AB, MB, ON, PEI, QC & SK. Contest subject to change at admin's discretion.