December 3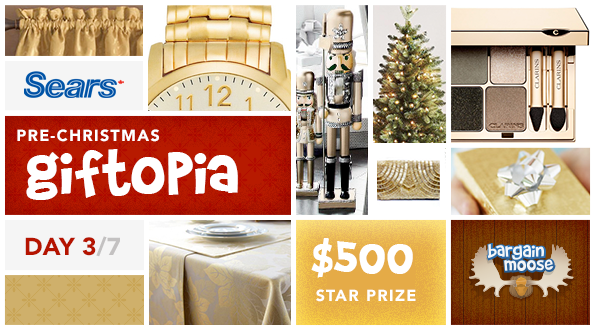 *** Contest now closed, winner was Mooser Lenny ***
We are moving swiftly on to day three out of seven in our fantastic Bargainmoose Giftopia contest, to give away $1200 in Sears gift vouchers to some lucky Bargainmoosers.  We have a grand prize of one $500 Sears gift card and seven daily prizes of $100 gift cards to give away – you can read the full contest description here.
Today, I'm going to highlight the Sears.ca online Toy Shop which is currently having an "up to 40%" sale if you are looking for any Christmas pressies. My daughter is now three and just getting to the age where getting a present from Santa really means something to her. I think that I am more excited about Santa than she is! Santa has bought her a set of proper Lego this Christmas (man, that stuff is expensive!). Luckily there are a few Lego offers on at Sears – up to 20% off select Lego sets until the 14th December 2013. Another thing I love to buy my daughter is arts and craft items. We've got a ton of Play-Doh and it's so creative and fun. We really enjoy playing together with it.
If you're buying anything for your kids, or Santa is just looking for inspiration, check out the deals in the Sears toy shop.
Here are today's gifts of the day and more offers:
How to enter the Sears.ca Giftopia Day 3 contest today:
Please answer this question and comment below:
Was there a toy you coveted as a child, something you saw others playing with but that you never owned yourself? What was it?
For me, it was Lego, as mentioned above. We never had any proper Lego in my house, so when we visited friends who had a Lego collection, I was in creative heaven!
All contest entries on this blog post today will be put into the daily draw for a Sears $100 gift voucher, as well as getting a bonus entry for the $500 Sears star prize.
Bonus Giftopia entries today:
Leave a link to this Sears Giftopia on Twitter, ensure you include @bargainmoose in the tweet
Re-pin this contest on your Pinterest boards, and follow us too
Post a link to our Sears Giftopia on your Facebook wall and share with your friends, make sure you like Bargainmoose on there
Don't forget:
Come back tomorrow to have another go for a daily $100 Sears gift voucher, as well as some bonus entries for the $500 Sears grand prize!
Contest Rules:
Canadian entrants only. One type of entry per household. Giftopia prizes limited to one per household. Ends 3rd December 2013, 11.59PM EST. No purchase necessary. Odds of winning depend on the number of eligible entries received. Duplicate, incomplete or illegible entries will be disqualified. Entrants must be age 19 or over in BC, NB, NL, or aged 18 or over if from AB, MB, ON, PEI, QC & SK. Contest subject to change at admin's discretion.