December 10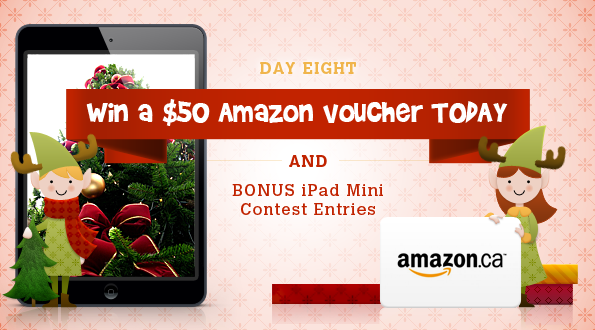 *** Contest now closed, winners was Bargainmooser Jenny! ***
With Christmas just around the corner, I am sure many of you would appreciate a $50 Amazon.ca gift voucher; either to treat yourself or buy some last-minute Christmas pressies. Well, enter today's contest to try your luck!
How to enter today's contest for a $50 Amazon.ca gift voucher
Did you know that right now, Chapters online store is offering totally free shipping with no minimum spend at all? They are… until the 13th December 2012. Plus, you would get guaranteed delivery by Christmas – so a good time to order. They have a section for "gifts they'll love under $30″ – what would you buy from there?
Leave your choice in a comment below.
By entering today, you'll be entered into the contest to win a $50 Amazon.ca gift voucher, and you will also gain a bonus entry into the grand prize of the iPad Mini. Come back each day for more $50 Amazon vouchers, plus bonus iPad Mini contest entries!
Gain bonus entries for the $50 Amazon voucher today:
 Today's Rules:
Canadian entrants only
1 type of contest entry per household
Ends 11th December 2012
Contest subject to change and admin's decision is final