December 9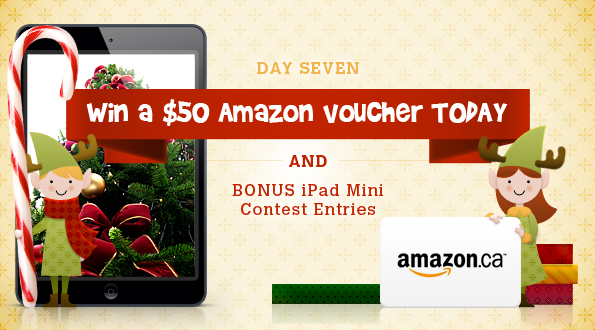 *** Contest now closed, winner was Kelly! ***
We're on day 7 of the Bargainmoose Christmas contest, on this the eve of No Minimum Monday. And in our contest, as I am sure you are well aware by now, we're giving away an iPad Mini as the main prize. Read on…
How to enter today's contest for a $50 Amazon.ca gift voucher
On Sportchek.ca's online store, they've always got a lot of offers on the various sporting goods. Name one of the current promotional deals that you can see being advertised on the Sportchek home page.
Leave your answer in a comment below. Remember – Sportchek is one of the top merchants offering free shipping with no minimum spend for our No Minimum Monday free shipping event on the 10th December 2012 only – use the above link to activate the free shipping!
By entering today, you'll be entered into the contest to win a $50 Amazon.ca gift voucher, and you will also gain a bonus entry into the grand prize of the iPad Mini. Come back each day for more $50 Amazon vouchers, plus bonus iPad Mini contest entries!
Gain bonus entries for the $50 Amazon voucher today:
 Today's Rules:
Canadian entrants only
1 type of contest entry per household
Ends 10th December 2012
Contest subject to change and admin's decision is final