September 21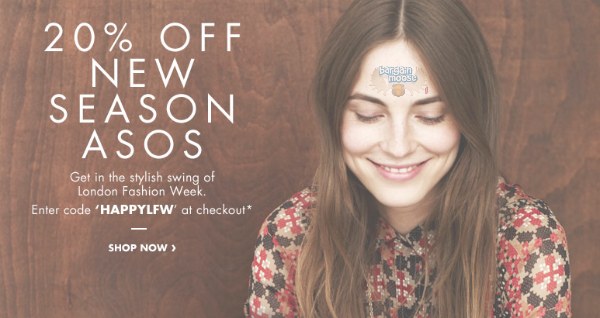 Asos is one of those cool places that offers free worldwide shipping including Canada. They also have a coupon code right now for 20% off all new season styles, which excludes all discounted products.
Discount: 20% off 'new' stuff
Discount Code: HAPPYLFW (expired)
Expiry: ?
Now, for our Moosers I will often spend my hard earned money testing different retailers just for you guys (well I do get a little something out of it too). So last time I posted about Asos I bought 2 items, placed in 2 separate orders. One order was under $22 and the other was slightly over. According to Asos' website if your order to Canada is $22 or under you will not get hit by customs. I am happy to say that neither of my packages got hit by customs.
Interested in what I bought? Well the first item is sold out on the website, but I can show you the second item: ASOS Cut Out Summer Dress in Colour Block on sale for $27.10 (orig. $63.25). I had bought it when there was an extra 20% off sale products coupon.. suit was very close to that $22 threshold. I really love the design, it is the perfect summer dress! I got it in the red/pink colour and am hoping for another coupon soon to get it in the blue/yellow.
I suggest reading up on the size charts, as UK and US (Canadian too) sizes are quite different.
Asos has such great finds if you enjoy taking the time to browse! And check the coupon section for the latest Asos promo codes.