June 10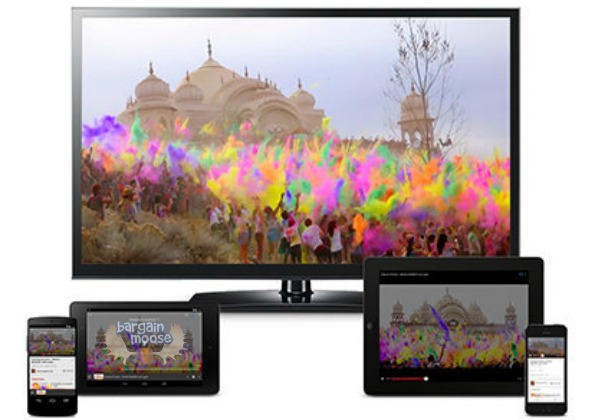 You can get $20 towards Google Play items like movies, music, games and more when you buy and set up a Chromecast from Amazon before June 30th.
I had never heard of Chromecast before, but it sounds very cool. For only $39 you'll get super small media streaming device that is meant to plug into your TV (via the HDMI port). You'll then be able to watching video and music on your TV that is streamed from your smartphone, tablet or computer. It supports more than just Google Play, including Nexflix, You Tube and content from your Chrome browser. It also works with Android, iOS, Mac, Windows and Chromebooks. There is also an app so you can do this from anywhere you are.
There are 966 reviews on Amazon for the Chromecast, with a 4.1 star rating out of 5, which I think tells a lot!
If you weren't sure about buying one before, or waiting for a price drop, this is the time. You'll get $20 in free movies and more on Google Play when you buy a Chromecast from Amazon, which is sort of like paying less than $20 for your unit. Once you've bought your Chromecast, you'll have to redeem your offer before June 30th and redeem your Google Play credit by July 30th.
This item looks so easy, even I could use it! I am technologically-inept, but this is just a plug and go type of thing. I've actually sent the deal to my husband already, as it really is a fantastic deal. Even this reviewer thinks I could use it:
Set up for this was extremely easy to, just as indicated by the "three easy steps". Granted, I am a bit of techie, so for me it was a no-brainer. Truthfully, if you know how to download apps, you should be able to handle the setup of this. If you don't, please get your kid/friend/partner that is slightly more technologically adept to set it up.

Usage is easy, Google is making everything simplistic to use and understand, and for anyone who uses Google services, you will find that it maintains the "feel" and logic of the other services it offers.
Your Chromecast will ship for free, as it is over the $25 minimum required by Amazon for free shipping.
(Expiry: 30th June 2014)