January 22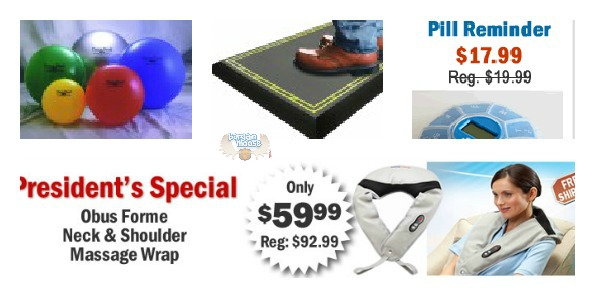 Age Comfort Canada has given us an exclusive coupon code for 8% off any order placed online excluding incontinence products.  This cannot be combined with other offers or promotions and coupon is valid until February 28th 2013.
Click here to shop @ Agecomfort.com
Coupon Code: 8offmoose
Discount: 8%
Expiry: 28th February 2013
I could quite literally go on forever about the products offered at Age Comfort.  Having recently been introduced to the wonderful world of menopause, I am constantly looking for items or products to help make my life easier and healthier.  Since this is something we all get to experience, why not make it a good thing? It's amazing how sitting, sleeping and eating can all of a sudden become an entirely different experience than what you've been used to all your life.
The first thing I noticed here was this Pharma Clock (item# AC2341) that was $19.99 and is now $17.99.  As I recently had to start taking a medication daily, I found that remembering to take it was not as easy as it sounded.  This is one of the items that will definitely make things easier as it has 4 daily alarms and 7 compartments that correspond to the days of the week.   There is a large storage capacity for medication, a light and sound reminder, and the alarm has an automatic shut off after 1 minute to conserve battery power.  I love it; no more forgetting medication or wondering if I took it already.
Here's an item that's great for everyone. If I happen to get up during the night for any reason, the bedside lamp or overhead light is far too bright. This Motion Activated Bedside Light (AC1922), is perfect.  This was $28.99 and is now $26.99. You just simply wave your hand over the top of the unit to activate it, and it can detect motion up to 12 ft. away. With the super-bright LED bulbs it's great for stairways, bathrooms or anywhere you may need emergency lighting.
I also love to enjoy a hot bath and this Homedics Bath Pillow (AC2470) that is $19.99 would be wonderful.  This is a vibration massage bath pillow, covered in soft plush (removable and washable) material.  There are suction cups included to make sure the pillow stays where you put it, a convenient battery operation at your fingertips (4 AA batteries not included) and it is approximately 13"L X 8"H X 4"W.
Check out Age Comfort! There are hundreds of great things for everyone at any age.  I love the fact that I can get discounts and free shipping, which are added bonuses!
Shipping: Free on orders over $50.