October 8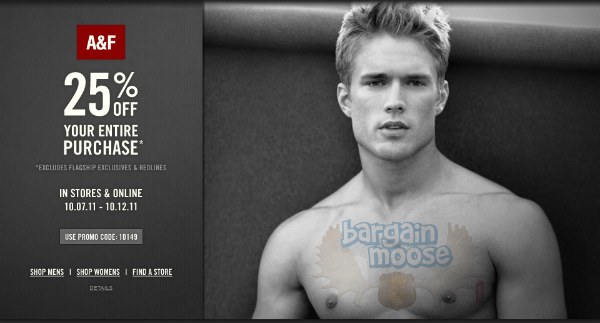 Abercombie & Fitch is one of those US clothing stores we enjoy because they offer nice coupons that include Canadians and because they cover the duty charges to ship into Canada, how nice of them! Today we are featuring a splendid 25% off coupon code for their store.
This coupon does have 2 exclusions: Flagship exclusive items online and redline merchandise.
Discount: 25% off
Coupon Code: 10149
Expiry: 12th, October 2011
This discount is also available in store.
So what is going on at A&F these days? Well, they now accept Paypal, which is a nice addition. On the sales front – jeans are on sale.
For those that aren't flagship exclusive jeans you can stick on the coupon to get an extraordinarily good deal on the A&F jeans.